Rotaract Club of SSSS College of Commerce for Women is established on August 26, 2021 under Rotary District Number 3070. The club is sponsored by Rotary Club Amritsar Central (Sponsor Club ID 30380).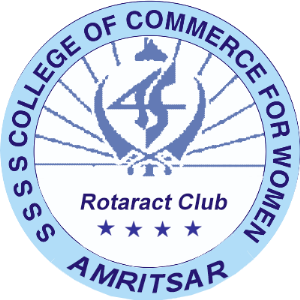 President: Sukhpinder Kaur, M.Com Sem III
Secretary: Saranpreet Kaur (B.Com (FS) Sem V)
Adviser: Dr. Tina, Asst. Professor (Commerce) 
Following are the office bearers of the Rotaract Club of the College for the session(2021-22)
Riya Verma (BCA Sem V)
Prishita Gulati (BBA SEM III)
Arshdeep Kaur (B.Com SEM III)
Dolly (B.Com SEM III)
Gurpinder Kaur (B.Com SEM V)
Jasmeen (BBA SEM V)
Tanya (B.Sc (Eco) Sem V)
Riya Verma (B.Sc (Eco) Sem V)
Vanshika (B.Com (FS) Sem V)
Kritika (B.Com (FS) Sem V)
At present, Rotaract Club of the College comprises of 117 members.
Students of the College can 'Join the global movement of young leaders who are developing innovative solutions to the world's most pressing challenges'.
Purpose and Benefits of Joining Rotaract Club of the College
• Rotaract clubs bring together people ages 18 and older to exchange ideas with leaders in the community, develop leadership and professional skills, and have fun through service.
• In communities worldwide, Rotary and Rotaract members work side by side to take action through service.
• Rotary believes in developing the next generation of leaders. Rotary programs help younger leaders build leadership skills, expand education and learn the value of service.
• Each year, Rotary awards up to 130 fully funded fellowships for dedicated leaders from around the world to travel abroad, exchange cultural values and develop leadership skills.
• Rotaract membership offers opportunities for working in cooperation with sponsoring Rotary club.