Sant Singh Sukha Singh School – the sapling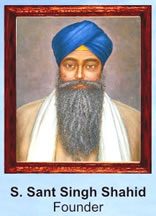 was sown by S. Sant Singh an enlightened soul who gave away all his riches to start the school in the memory of his deceased son S. Sukha Singh. Moved by the turbulent times – dominance of British rules and their forced impact on our language and culture he envisioned a temple spreading light of knowledge to one and all irrespective of caste, creed and religion.
Established on May 13, 1893 the school, which started in the form of primary school, completed its 100 years in 1993. Sant Singh Sukha Singh College of Commerce for Women was established in this year as a part of Centenary Celebrations of this school.
Realizing the dire need of quality education for young girls in job-oriented courses the college was started as an exclusive Commerce College for Women affiliated to Guru Nanak Dev University Amritsar.
Housed in a clean and green campus located in the heart of the city, the college specializes in providing top quality education in job-oriented courses in commerce and allied subjects at affordable prices. The college has sound infrastructure – spacious class rooms, seminar halls with audio – visual aids, well stocked library and state-of-the-art computer laboratories and suitably equipped accounting laboratories.
The college specializes in providing quality education in its core areas viz. Commerce, Economics and Computer Application. Our special focus is on skill development through short courses in communication skills, personality development, competitive abilities and a few specialized programmes in accounting and taxation as well. Through consistent efforts and innovative approach the college has tried to build a culture of excellence in teaching and learning. Over a span of 30 years the college has produced a large number of professionals, teachers, researchers and homemakers with quality of head and heart.
We pray to the Almighty, in all humility and immense gratitude, for resilience and prowess to carry on the baton of glorious achievements.
Dr. Navdeep Kaur
Principal