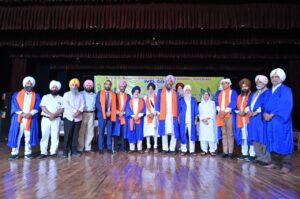 Sant Singh Sukha Singh Group of Schools and Colleges celebrated its 130th Foundation day on May 13th, 2022. Led by the Director, S.Jagdish Singh Ji, a group of about 150 members of the SSSS family comprising the principals, teachers and students paid obeisance at Sri Darbar Sahib and Sri Akal Takht Sahib and recited Ardas to express their gratitude to The Almighty for His benedictions.
A function was held at Mata Kaulan Marg Campus wherein Bhai Jarnail Singh, Hazoori Ragi, Sri Harimandar Sahib and the students of SSSS schools and colleges performed Shabad Kirtan. Director, S. Jagdish Singh Ji shed light on the history of 129 years of the institution and encouraged the young generation to work hard. A special programme coordinated by Principal, Dr. Navdeep Kaur and her team was held in the Vidyak Bhawan where S.Kultar Singh Sandhwan (Speaker Punjab Legislative Assembly, Chandigarh) was the chief guest and Dr.Inderbir Singh Nijjar (MLA) and Sh.Ajay Gupta (MLA) were the Guests of Honour. Principal,Dr. Navdeep kaur presented the dignified journey and history  of Sant Singh Sukha Singh Institutions through a multimedia presentation which was followed by a Sufi Kalaam presented by the college students . A play titled 'Sant' directed by Ms.Kiran Bala(Assistant Prof.in Punjabi) showcasing the selfless endeavours of the Founder and Philanthropist S.Sant Singh Ji was enacted by the college theatre group 'Niralam'.
 On this occasion, S. Jagjit Singh Uppal,Advocate, S.Kultar Singh, Prof.Dr. Harkant Singh, S.Gurpreet Singh (Principal),Dr. Ajay Gupta (MLA),Deputy Advocate Gen.,S.Joginder Pal and S.Kultar Singh (Speaker Legislative assembly  Punjab)were honoured with SSSS award by the managing committee. Giani Kewal Singh( Former Jathedar Shri Damdama Sahib),Giani Jagtar Singh Ji, Deputy Chief Granthi of Sri Harmandir Sahib, Justice R S Randhawa (Retd.), Chairman SSSS Khalsa Educational Institutions, S.Brahmjit Singh Ji,  Dr.Manmohan Singh Ji, S.Dalbir Singh (MLA), Mr.Vishal ji on behalf of Kunwar Vijay Pratap Singh, S.Mukhtar Singh(Town Planner),Dr.Narinder Singh, S.Jaswinder Singh(Advocate), S.Charanjit Singh Batra (President), S.Jasbir Singh Patti ,S.Himmat Singh Shergill ,Sdn.Swaran Kaur, Dr.  Manpreet Kaur, Dr.  Harpreet Kaur, S.  Satinder Singh, Mr.Gurpreet Singh, Mrs. Arvinder Kaur, Mrs. Jaswinder Kaur, Mrs. Savita Khanna, Mrs. Anu Khanna, Mrs. Manjit Kaur, S.  Satpal Singh and Mrs. Varinder Kaur Kalsi were also present on the occasion. Chief Guest, S.Kultar Singh Sandhwan in his address encouraged the students to aim for big. The event ended with the presentation of the vote of thanks by Justice R S Randhawa and the recitation of the National Anthem.