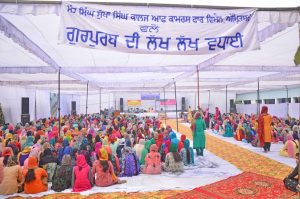 Parkash Purab of Guru Ram Das Ji and the 27th Foundation Day of College was observed at SSSS College of Commerce for Women, Amritsar on Friday, November 01, 2019 with great enthusiasm and devotion. Students recited poems, hymns and Ardas followed by Hukamnama from Sri Guru Granth Sahib. The entire atmosphere vibrated with the divine musical notes and spiritual fervor.
Jagdish Singh Ji, Director, reflected on life, legacy, philosophy and directives of the Guru Sahib and asked Sangat to absorb the qualities of selfless-service, devotion and follow virtuous path shown by the Guru Sahib.
Dr. Navdeep Kaur, Principal thanked one and all for their presence and respective contribution for the successful conduct of the event. She urged the students to illuminate themselves with knowledge & spread the same for the well-being of everyone around.
The glorious achievement of the College during its 26 years of meaningful existence were lauded and the young achievers of the College in various fields in academic, co-curricular and extra-curricular were honoured. "Guru Ka Langar" was served and savoured lovingly by one and all.
Dr. Manmohan Singh, Sardarni Swarn Kaur, Sardarni & Sardar Piara Singh, Dr. Tejpal Singh, Pr. Gurpreet Singh, Pr. Satinder Singh, S. Sukhwinder Singh, Pr. Narinder Kaur, Mrs. Manjit Kaur, Mrs. Narinderjit Kaur Marwaha , Mrs. Sharanjit Kaur, Mrs. Arvinder Kaur , Mrs. Jaswinder Kaur , S. Harminder Singh were also present on the occasion.