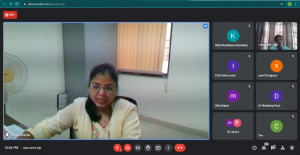 In association with Rajiv Gandhi National Institute of Intellectual Property Management, Nagpur, SSSS College of Commerce for Women, Amritsar organized on Online Workshop on 'Intellectual Property Rights and Patent Process' on October 25, 2021. Mrs. Pooja Vishal Maulikar was the resource person for this session. Dr. Moninder Kaur introduced the resource person & informed the participants about the relevance of the IPR.
Delivering the welcome address Principal, Dr. Navdeep Kaur emphasized the role of educational institutions in encouraging, nurturing creativity and securing the rights of the creators. Mrs. Pooja Vishal, the resource person elaborated the patent rights, copyrights, design and geographical indicators. The resource person shared her valued knowledge with participants on Intellectual Property, its types and explained the concept with real life examples. The IPR filing procedure was also discussed in detail by the resource person.
A question answer round was held at the end of the session wherein the resource person addressed the queries of the participants. Dr. Moninder conducted the event. More than 100 participants including students, faculty and members from other educational institutions participate in the session.
Dr. Samriti Kapoor & Mrs. Pooja Monga jointly coordinated the session.